Zyllt is unlikely to affect your ability to drive or to use machines.
Zyllt contains lactose
Elenco capitoli
If you have been told by your doctor that you have an intolerance to some sugars, contact your doctor befor e taking this medicine.
Zyllt con tains h ydrogenated castor oil
This ma y cause stomach upset and diarrhoea.
3. H ow to take Zyllt
Always take this medicine exactly as your doctor or pharmacist has told you. C heck with your doctor or pharmacist if you are not sure.
If you have experienced severe chest pain (unstable angina or heart attack), your doctor may give you 300 mg of Zyllt (4 tablets of 75 mg) once at the start of treatment. Then, the re commended dose is one 75 mg tablet of Zyllt per day to be taken orally with or without food, and at the same time each day.
You should take Zyllt for as long as your doctor continues to prescribe it.
If you take more Zyllt than you should
Contact your doctor or the nearest hospital emer gency department because of the increased risk of bleeding.
If you f orget to take Zyllt
If you forget to take a dose of Zyllt, but remember within 12 hours of your usual time, take your tablet straightaway and then take your next tablet at the usual time.
If you forget for more than 12 hours, simply take the next si ngle dose at the usual time. Do not take a double dose to make up for a forgotten tablet.
If you stop taking Zyllt
Do not stop the treatment unless your doctor tells you so. Contact your doctor or pharmacist before stopping.
If you have any further ques tions on the use of this medicine, ask your doctor or pharmacist.
4. P ossible side effects
Like all medicines, this medicine can cause side effects, although not everybody gets them.
Contact your doctor immediately if you experience:
fever, signs of infection or extreme tiredness. These may be due to rare decrease of some blood cells.

signs of liver problems such as yellowing of the skin and/or the eyes (jaundice), whether or not associated with bleeding which appears under the skin as red pinpoint dots and/or confusion (see section 2 ' Warnings and precautions').

swelling in the mouth or skin disorders such as rashes and itching, blisters of the skin. These ma y be the signs of an allergic reaction.
The most common side effect is bleeding.
Bleeding may o ccur as bleeding in the stomach or bowels, bruising, haematoma (unusual bleeding or bruising under the skin), nose bleed, blood in the urine. In a small number of cases, bleeding in the eye, inside the head, the lung or the joints has also been reported.
If you experience prolonged bleeding when taking Zyllt
If you cut or injur e yourself, it may take longer than usual for bleeding to stop. This is linked to the way your medicine works as it prevents the ability of blood clots to form. For minor cuts and in juries
g., cutting yourself, shaving, this is usually of no concern. However, if you are concerned by your bleeding, you should contact your doctor straightaway (see se ction 2 ' Warnings and precautions').
Other side effects include:
Common side effects (ma y affect up to 1 in 10 people):
Diarrhoea, abdominal pain, indigestion or heartburn.
Uncommon side effects (m ay affect up to 1 in 100 people):
Hea dache, stomach ulcer, vomiting, nausea, constipation, excessive gas in stomach or intestines, rashes, it ching, dizziness, sensation of tingling and numbness.
Rare side effect (m ay affect up to 1 in 1000 people):
Vertigo.
Ver y rare side effects (ma y affect up to 1 in 10,000 people): jaundice; severe abdominal pain with or without back pain; fever, breathing difficulties sometimes associated with cough; generalised allergic reactions (for example, overall sensation of heat with sudden general discomfort until fainting); swelling in the mouth; blisters of the skin; skin allergy; sore mouth (stomatitis); dec re ase in blood pressure; confusion; hallucinations; joint pain; muscular pain; cha nges in taste of food.
In addition, your doctor may identify changes in your blood or urine test results.
Reporting of side effects
If you get any side effects, talk to you r doctor or pharmacist. This includes any possible side effects not listed in this leaflet. You can also report side effects directly via the national reporting system listed in Appendix V. By reporting side effects you can help provide more information on the safety of this medicine.
5. H ow to store Z yllt
Keep out of the sight and reach of children.
Do not use this medicine after the expiry da te which is stated on the carton and blister after EXP. The expiry date refers to the last day of that month.
Store in the original package in order to protect from moisture and light.
Do not throw away any medicines via wastewater or household waste. As k your pharmacist how to throw away you no longer use. These measures will help to protect the environment.
6. Contents of the pack and other information
What Zyllt contains
The active substance is clopidogrel. Each film-coated tablet contains 75 mg of clopidogrel (as hydrogen sulphate).

The other ingredients are anhydrous lactose (see section 2 ' Zyllt cont ains lactose '), microcry stalline cellulose, pregelatinis ed ma ize starch, macrogol 6000, hydrogenated castor oil (see section 2 ' Zyllt cont ains hydroge nated castor oil ') in the tablet core and hypromellose (E464), titanium dioxide (E171), red iron oxide (E172), talc and propylene glycol in the film-coating.
What Zyllt looks like and contents of the pack
The film-coated tablets are pink, round and sligh tly convex.
Boxes of 7, 14, 28, 30, 50, 56, 60, 84, 90 and 100 film-coated table t s in blisters are available.
Not all pack sizes may be marketed.
Marketing Authorisation Holder
KRKA, d.d., Novo mesto, Šmarješka cesta 6, 8501 Novo mesto, Slovenia
Manufacturer
KRKA, d.d., Novo mesto, Šmarješka cesta 6, 8501 Novo mesto, Slovenia
KRKA-POLSKA Sp. z o.o., ul. Równoległa 5, 02-235 Warszawa, Poland
KRKA-FARMA d.o.o., DPC Jastrebarsko, Cvetković bb, 10450 Jastrebarsko, Croatia
For any information about this medicine, please contact the local representative of the Marketing Authorisation Holder: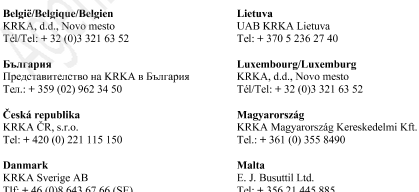 This leaflet was last revised in MM/YYYY.
Detailed information on this medicine is available on the European Medicines Agency web site: http://www.ema.europa.eu /. The re are also links to other websites abou t rare diseases and treatments.